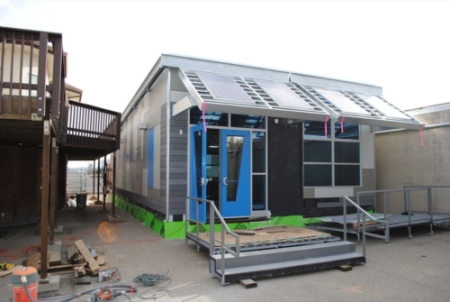 Modular Classroom. (PRNewsFoto/Pacific Gas and Electric Company (PG&E))
"The addition of these ground-breaking zero net energy educational resources to PG&E's Energy Training Center truly complements our zero net energy curriculum, which equips students to address the demand for improved energy performance in new and existing housing," said Gary Girardi , supervisor of PG&E's Energy Training Center. The oldest of its kind in the U.S., PG&E's Energy Training Center provides continuing education for businesses, construction professionals and participants of energy efficiency education programs.
"Those in the building industry face aggressive energy-saving standards," Girardi added, "and we look forward to using our expertise and resources – including the two exciting and new resources we have now added – to help them realize the energy savings possible through zero net energy buildings."
The new ZNE home display and modular classroom support an action plan of the California Public Utilities Commission for all new residential construction in California to be zero net energy by 2020. The goal for new commercial construction is to achieve zero net energy by 2030. ZNE buildings produce as much clean energy as they use during a year through a combination of designed energy efficiency and on-site, grid-tied renewable energy production.
The ZNE home display provides residential builders with hands-on guidance on how to apply ZNE principles to their practice, including how to design a highly efficient building and how to cost-effectively size on-site renewable generation. A short video features ZNE experts Ann Edminster , Rick Chitwood and Steve Easley demonstrating how technologies and strategies contributed to zero net energy results at a single-family home in San Jose, Calif.
Engineered and manufactured by American Modular Systems, the "Gen7" ZNE modular classroom leverages advanced design and performance to exceed Title 24 energy standards by an average of 50 percent before the addition of renewable energy. Energy-efficient features include an ultra-tight building envelope, high R-value insulation, large low-E view windows and skylights, natural ventilation, and automatic light and climate control. With the addition of roof-mounted photovoltaic (PV) panels, the classroom becomes zero net energy.
PG&E's Energy Training Center in Stockton focuses on residential buildings and is the longest continuously operating weatherization training center in the nation, supporting the state's energy goals since 1978. Over time, the center has trained more than 91,000 participants who, in turn, have performed energy audits, weatherization or home performance services for more than two million Californians.
Source: http://www.pge-corp.com